Our School
St Edmund's is a primary school of approximately 400 children aged from 4 to 11. Each year has 2 parallel classes. It serves the Catholic community of Bury St Edmunds, Stowmarket, Diss, Thetford and Brandon and the surrounding villages. Children and families from other faith communities or none are warmly welcomed to the school.
St Edmund's opened in 1882. Since then it has been added to and refurbished. The library and a teaching block were completed in August 2000. The year 5 and 6 block were completed in 2015. The school enjoys beautiful grounds which are used to enhance the children's learning.
The school accommodates St Edmund's Catholic Pre-school and Sunshine Club in a purpose built unit providing pre-school education, before and after school care for children age 3 to 11years.
At St Edmund's we seek to provide access to a broad and balanced curriculum within a community which aims to:
Remember we are all loved individually and uniquely by God.
Place Love, Justice and Compassion at the centre of our school.
Grow closer to God through the development of our Faith.
Through the practical application of these aims, we are proud of the excellent academic success our pupils enjoy. During their time at St Edmund's we work hard to ensure that each child grows in self-confidence and self-discipline, learns to care for those around them as well as their environment.
CHARACTERISTICS OF LEARNING
The staff across both schools in the partnership joined together to ref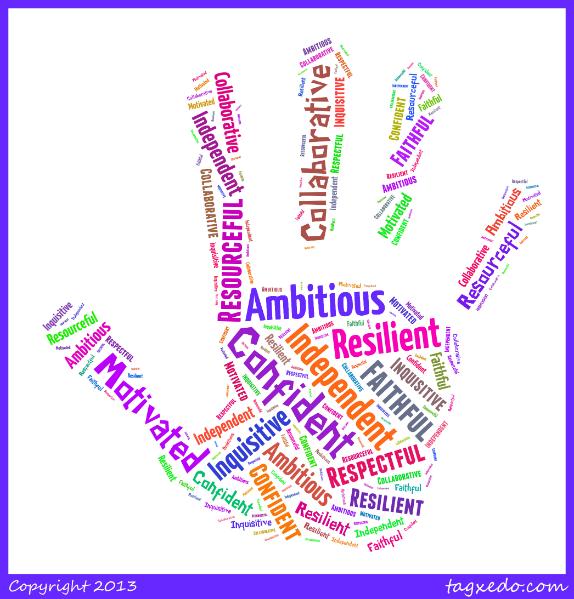 lect upon and identify what we considered to be the characteristics of an effective learner. We believe that the 10 characteristics which are included within the handprint underpin everything that we do in our schools and everything that we want our pupils to be. The 10 characteristics are both discreetly and explicitly taught throughout all that we do in school and we strive for all children to leave our schools with the foundations of lifelong learning having developed these characteristics.
The school council has worked hard to develop learning bricks which focus on each one of the characteristics in turn and help all children form an awareness of how to help themselves develop these 10 characteristics.
We aim to encourage and develop the following qualities in all the members of our community:
Ambitious
Collaborative
Inquisitive
Resilient
Respectful
Motivated
Independent
Confident
Resourceful
Faithful