Our SEND Offering
We believe that for all pupils to thrive, they require a safe, caring, and enriched environment in which they see themselves as successful learners. The majority of children make good progress through high quality teaching within the classroom. However, there are times when some pupils experience difficulties in their learning. This might be for a variety of reasons some of which will be temporary and others which may last throughout their school career.
St Edmund's has a strong tradition of supporting children with special educational needs and disabilities. Staff have experience and training in the teaching of children with Cerebral Palsy, Down's syndrome, Autistic Spectrum Disorders, Dyslexia and Dyscalculia. Whilst the school is arranged over three levels, lifts mean it is accessible for children with motor disabilities. Soundfield systems are fitted in classrooms and the hall for those who are deaf or hard of hearing. Staff and children make use of Makaton signing to support those with speech and language difficulties.
When a pupil is not making expected progress, further assessments are carried out to identify where there are gaps in learning. A targeted plan of learning will be developed which will identify the specific learning interventions that will be used to support the individual child. The progress of these interventions will be shared with parents and reviewed at least termly. This Assess, Plan, Do and Review process is referred to as the Graduated Approach.
Within school, we have a range of expertise and interventions that will be used as appropriate to support children's learning. The additional provision is managed by the Special Educational Needs co-ordinator (SENDCo) Mrs Bullen who can be contacted through the school office.
Information about SEND four areas of need




PARTNERSHIPS WITH PUPILS AND PARENTS
We feel it is vital that each pupil is aware of the progress they have made and what they need to do to achieve their new targets. Through the learning conversations which take place each term, pupils and parents are asked for their views and these are taken into consideration when planning the next steps for learning.
PARTNERSHIPS WITH OUTSIDE AGENCIES
We recognise the roles and responsibilities of External Support Services in the identification, assessment and support of our pupils with Special Educational Needs.
We liaise closely with the following services to help us meet the more complex needs of our pupils
Advisory Teacher for Special Educational Needs-Specialist Education Service
Advisory Teacher for Visually Impaired
Advisory Teacher for deaf or hard of hearing
Educational Psychologist
Speech and Language Therapy Service
Occupational Therapist
School Nursing service
Educational Welfare Officer
Suffolk County Council Children and Young People's Services
PARTNERSHIPS WITH OTHER SCHOOLS AT THE POINT OF TRANSITION
In the Summer term, prior to transition to high School, the needs of all pupils, including those with SEND are shared with key staff of the receiving school. Pupils have an opportunity to meet with staff and experience a range of visits prior to starting in September. An additional transition programme takes place tailored to the needs of the individual pupil. All records are then transferred to the high School.
OUR SCHOOL OFFER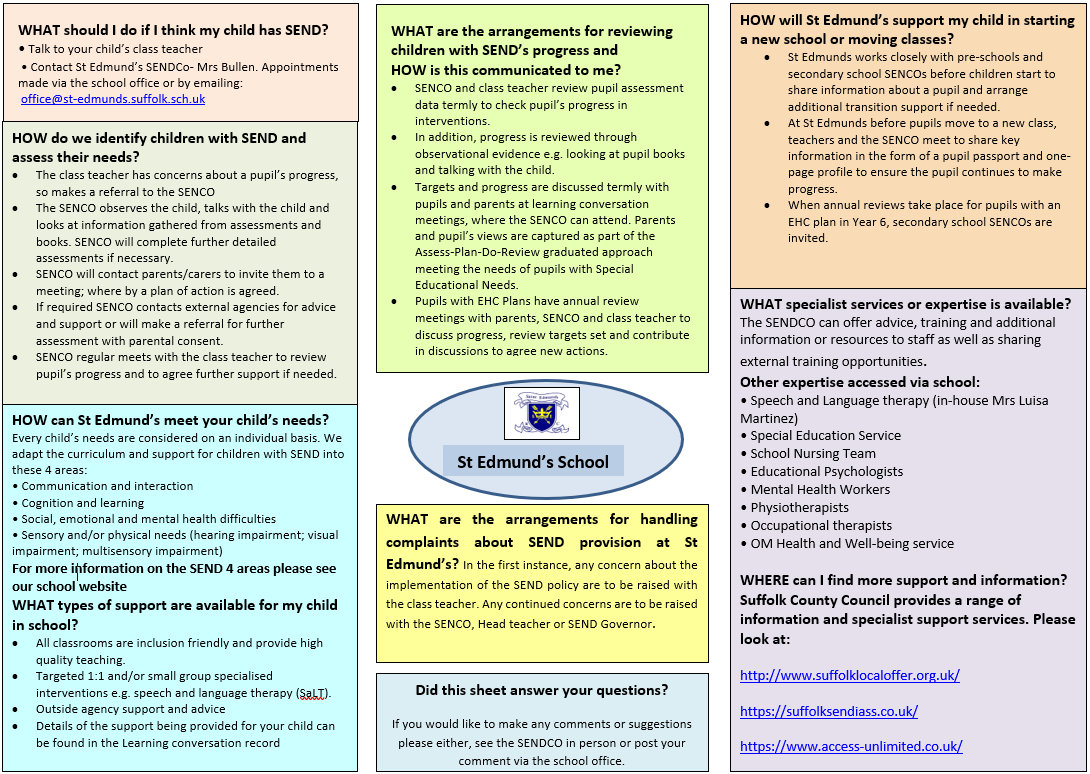 https://www.accessunlimited.co.uk/home/accessunlimited-one-stop-shop
SEND POLICY
Click here to access our school policies.
SEND CODE OF PRACTICE
Click here to take you to the government site.
SEND PARENT INFORMATION LEAFLETS